Foremost Exporters & Suppliers of Coffee in India
Coffee is the second most important beverage crop of India next only to tea.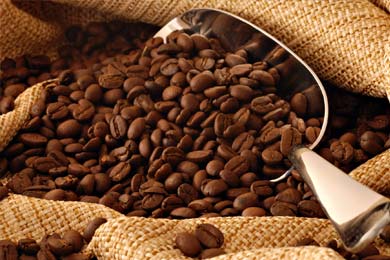 Indian coffee is said to be the finest coffee grown in the shade rather than direct sunlight anywhere in the world. Most of India's coffee is grown in the three southern states of Karnataka, Tamil Nadu, and Kerala. Karnataka accounts for nearly 65 percent of total production, whereas Tamil Nadu contributes approximately 15 percent and Kerala makes up around 20 percent. Coffee Arabica and Coffee Robusta are the two main varieties of coffee grown in India accounting for 49 per cent and 51 per cent of area respectively under coffee.
Among the plantation crops, coffee has made significant contribution to the Indian economy during the last 50 years. Although India contributes only a small per cent of the world production, Indian coffee has created a niche for itself in the international market, particularly Indian Rebustas which are highly preferred for their good blending quality.
Arabic coffee is also well received in the international market. In short, Indian coffee is well known for its quality and is much in demand in the international market. Therefore, India exports coffee to a large number of countries including U.K., the U.S.A., Russia, Australia, Iraq and a large number of countries of continental Europe.
Chennai, Mangalore and Calicut are the chief ports of export. Indian coffee exports have registered significant increase, both in terms of quantity and earnings during the last few years

---
Coffee basics
Once roasted, pretty much all coffee beans look the same. But did you know that there are actually dozens of different varieties of coffee beans? When it comes to your daily cup, though, there are really only two that matter: Arabica and Robusta. These are the two primary types of coffee cultivated for drinking.
What's the difference between the two? It's significant, and it's helpful to understand when choosing coffee.
The two varieties differ in taste, growing conditions, and price. Arabica beans tend to have a sweeter, softer taste, with tons of sugar, fruit, and berries. Their acidity is higher, with that winey taste that characterizes coffee with excellent acidity.

Robusta, however, has a stronger, harsher taste, with a grain-like overtone and peanutty aftertaste. Robusta are hardier plants, capable of growing well at low altitudes of 200 to 800 meters, they are also less subject to problems related to pests and rough handling. They yield more pounds of finished goods per acre at a lower cost of production.
Backed with rich industry experience and strong tie-ups, we are capable in providing the finest quality Arabic & Robusta Coffee Beans to all our worthy international buyers. The Coffee Beans are procured and shipped under the guidance of experts thus ensuring there is no compromise on quality.
We guarantee you that the coffee you buy from us is of single estate origin (for the ordered qty up to 150 mt), shade grown, roasted to perfection, watered by monsoon rain, hand-picked, sun dried and ripped on the bush.
---
Organic Coffee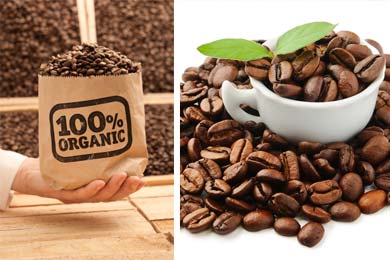 Organic coffee is produced without synthetic agro-chemicals and plant protection methods. A certification is essential by the accrediting agency for such coffee to market it. The Indian terrain and climatic conditions provide the advantages required for the growth of such coffee in deep and fertile forest soils under the two tier mixed shade using cattle manure, composting and manual weeding coupled with the horticultural operations practised in its various coffee plantations; small holdings is another advantage to grow for such a variety of coffee.
Availability of Organic Coffee
The availability of Organic Coffee is pretty good in India, but it is nowhere near that of non-organic regular coffee. The basic reason behind this is low production. As no artificial fertilizers are used on it, the production is quite low. However, awareness is growing, the demand is increasing, and so is production as more and more farmers are taking up organic farming. If it is not available in your locality, you can use the phone or Internet to order a dealer to ship some for you.
Organic Certification
Like any other organic product, certification is an important aspect to be considered while buying Organic Coffee. When you buy it, you must ensure that your shipment is accompanied with a valid certificate from a recognized certifying agency.
Our goal is to achieve 100% satisfaction by offering bulk coffee products of the highest quality in all of our presentations, providing impeccable service, guaranteeing fast delivery and developing strong relationships with our clients.
It is our paramount obligation to ensure that our customers get premium quality products, with superior packaging, transported by efficient shipping lines, documented, surveyed and certified all the way to ensure a rift free environment
---
Our global quality
From pre-selection to delivery to the final client, our coffee undergoes the most sophisticated processes of quality control.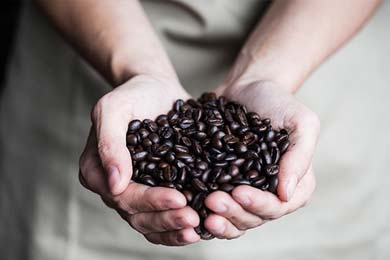 To obtain the most respected seals and certifications of world sustainability, we exercise strict control over its production, from the receipt of raw materials to the manufacture of the products without manual contact. State of the art techniques and equipment ensure full final quality, which is also the result of analysis, inspection and tasting of demanding experts with extensive knowledge.
Every sample is analyzed for the following:
Color
Moisture
Aspect (uniformity)
Classification by size (large grains / small grains)
Aroma
Picking (defects)
Tasting
The coffee is then stored in separate climate controlled warehouses.
We would be honored to be included on your list of regular suppliers of high quality Indian coffee.